When Caryn Winclechter's husband was stationed at Fort Hood in 2018, she took it as a sign to enroll in the welding program at nearby Texas State Technical College in Waco and pursue a lifelong fascination.
She is working toward certification in structural welding, at a time when TSTC officials and area employers say skilled welders are especially in demand.
"Welding is something that has always interested me," Winclechter said. "I already had a college degree at the time. I took a course in artistic welding at a high school campus of my alma mater and it was really cool. I think working with metal is a great skill, because we need to be much more aware of our future and how we use materials.
Winclechter said his favorite type of welding is gas tungsten arc welding, even though it's the most difficult.
"I think it's the most beautiful," Winclechter said. "A pretty weld is pleasing to the eye no matter what, but TIG welding is just extremely beautiful and very intricate and you can work on much thinner materials. I think it's really interesting. This can translate into the world of aviation, therefore aircraft parts.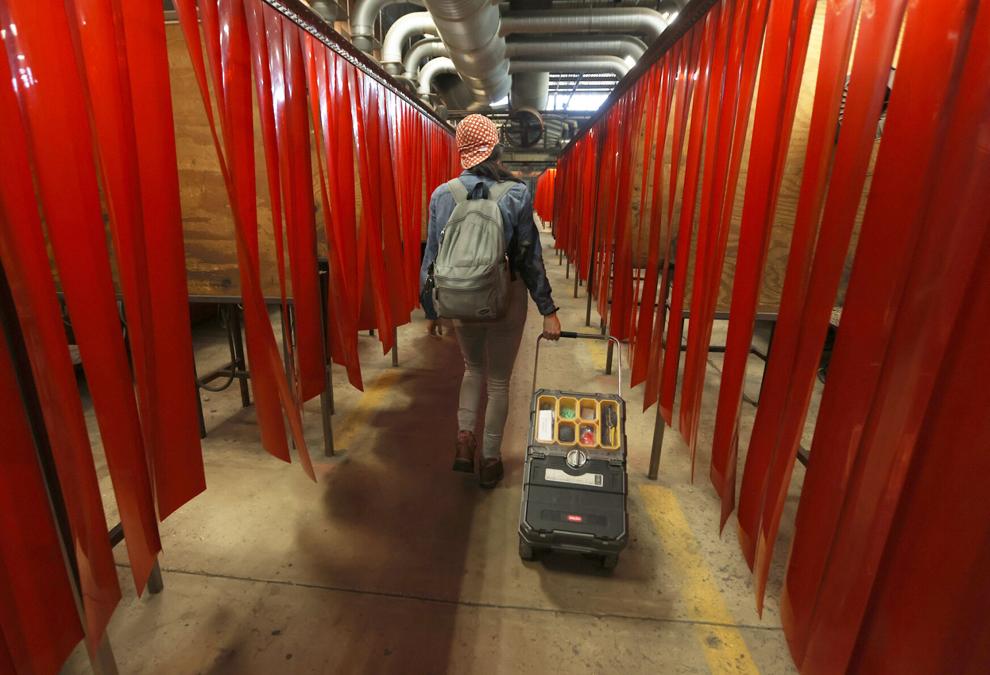 Winclechter said her dream job after graduation would be to work with someone who restores vintage cars.
"I love that this kind of openness opens doors of opportunity for different experiences," she said. "You have a skill set that you could kind of bring to multiple types of situations."
TSTC chief welding instructor Carl Wilmeth said welders are in high demand, largely because they are needed in such a wide range of industries. The starting salary varies greatly depending on the specific concentration. Some local shops start at around $18 an hour, while oilfield jobs offer upwards of $65 an hour, Wilmeth said.
"It's all about welding," he said. "To construct a building, you need welders who do the ironwork and the piping for the air conditioning. …Especially here in central Texas, there's quite a bit of construction going on.
Lone Star Ironworks owner Noah Smith said there were not enough skilled welders overall and high oil prices were pushing many into the industry.
"A lot of the pipeline welders that we use on construction projects have moved back to West Texas or to oilfields because they can do more 18-hour workdays in oilfields than on construction sites. "Smith said. "A lot of pipeline welders and oilfield welders, when the oilfield is slow, will take work in construction. Now that the price of oil has risen and is recovering, they are all booked for months and months, putting all the oilfield equipment up to scratch.
To temporarily combat the shortage of welders, Smith's company has raised wages and is looking for welders willing to travel statewide.
"Travel allows us to kind of fill in the gaps, to pay people by the day, wherever we can find them, to go to projects," Smith said.
Tyler Linderman, owner and head welder at Two Rigs Welding, said he thinks there are more jobs than there are qualified welders to fill them.
"It's a tough skill to master, and some of the welders we found weren't good enough to stick around," Linderman said. "There are not enough people who are passionate about welding, and it takes a lot of work.
Wilmeth, the TSTC's lead instructor, also said a good welder must have a strong will to work.
"You're going to have to want to step into the heat and get things done," Wilmeth said. "If you are not motivated, welding is not for you."
Wilmeth first earned a welding certificate in 1993 and has worked in the TSTC welding department for four years, even earning an associate's degree at this time in 2020.
The Welding Department typically welcomes approximately 200 new students each fall semester as it works to prepare qualified welders to meet a range of needs for a range of industries.
"I would say we're probably about 60% traditional, right out of high school, and the rest are changing plans," Wilmeth said.
The welding department has a hybrid model, with three hours of online class and six hours of in-person lab work typical for a semester.
"On the first day, we hit the road running. We do a little safety spiel and then we'll start welding on day one," Wilmeth said. "We are designed as if they had never struck an arc or lit a machine. If they come off the street and have never touched a welding machine, we start from scratch and develop them to the end.
The welding department is also working to change its curriculum to better accommodate students who have jobs that keep them from being in class in a typical 8-to-5 window, Wilmeth said. The change is tentatively scheduled for 2024.
TSTC's welding facility has approximately 400 machines that students can use to work on a variety of welding tasks.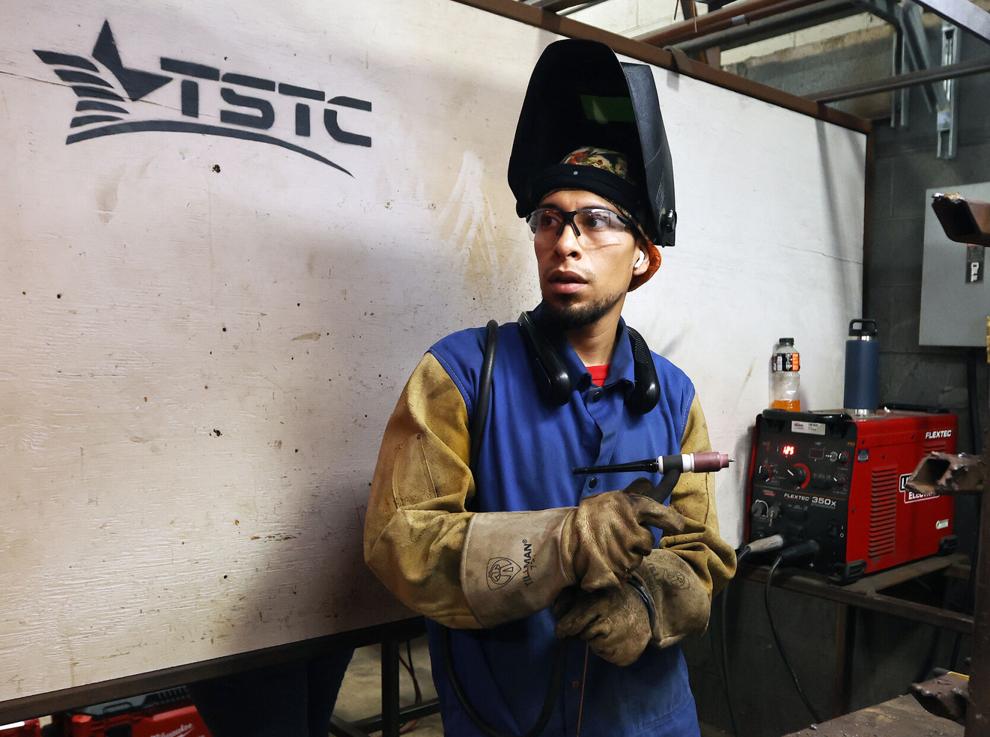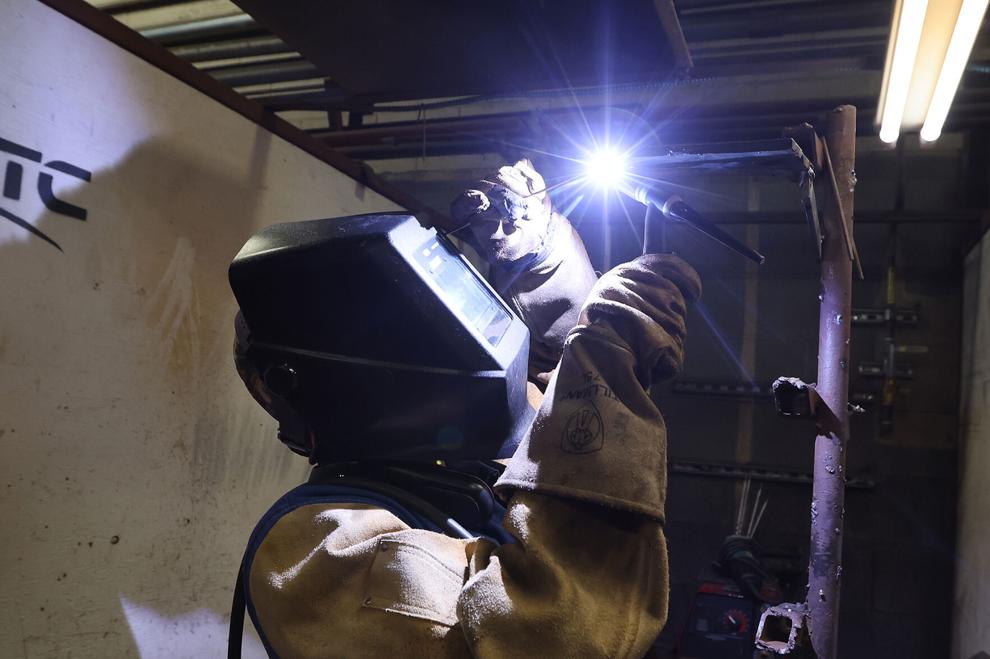 Waco native Francisco Torres said he had an interest in pursuing welding since leaving high school in 2011, but had no previous welding experience when he recently started. to pursue a TSTC associate degree in welding technology.
"I entered the workforce, and being in the workforce since I was 17 or 18, I realized that wasn't really what I wanted for myself," Torres said. "I decided to quit my job, which I had had for six years, to go into welding. I know there are a lot of opportunities and progress in welding, as well as money.
Torres said his ultimate goal once he graduates is to move to the Houston area, where there are even more welding jobs available than in other areas.
The physical aspect of welding can be difficult for some people, but for Torres this element isn't a huge adjustment from his past job.
"I worked outdoors for six years as a cable technician, so for me it's not a lot," Torres said. "It's hard as far as welding goes."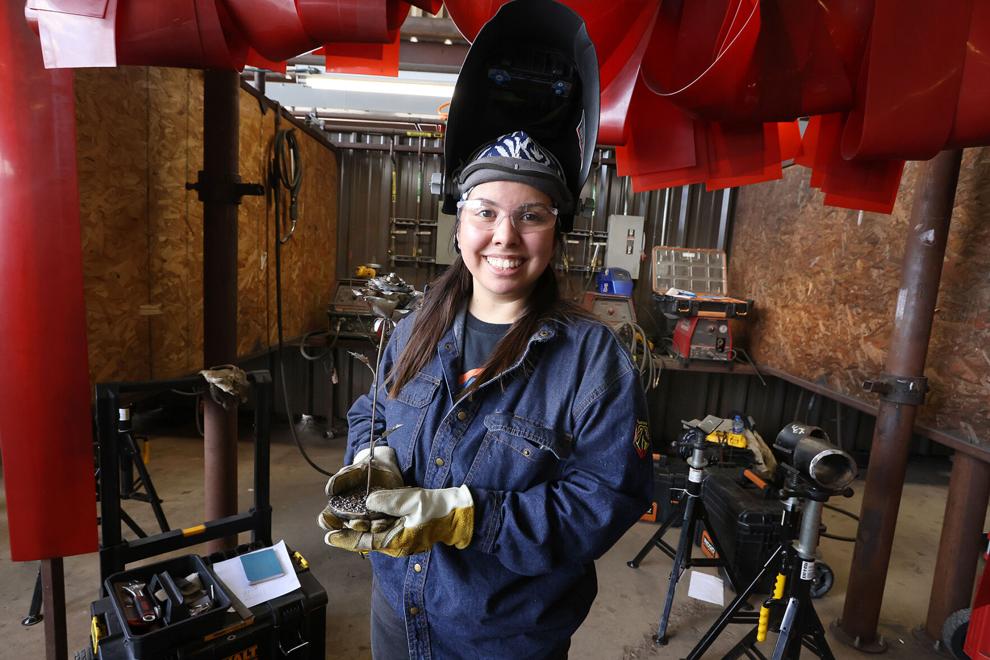 Welding student Esther Garciapina said she was initially hesitant to attend TSTC to study welding. Garciapina attended the Waco Independent School District's Greater Waco Advanced Manufacturing Academy before graduating from high school in 2016.
She received a scholarship to McLennan Community College and decided not to pursue welding immediately. She attended MCC for two years, earning a teaching associate degree. She was supposed to transfer to Tarleton State University to pursue this degree program, but the pandemic and knee surgery put a stop to that plan.
The shift to virtual classes at the start of the pandemic meant she wouldn't have been able to get the hands-on teaching experience she wanted. And her operation caused her to have difficulty walking for about seven months.
Garciapina enrolled in TSTC last fall and was able to dive straight into welding classes since she had already completed basic college courses. Now she's aiming to earn an associate's degree in welding by the end of the year.
"When you learn a skill, it's something no one can take away from you," Garciapina said. "I learned to do this and there are so many doors and opportunities for women to do what they didn't think they could do. It's something I've always loved about welding. It's like therapy for me. It's not like an 'oh, I have to go to school and do this', I really like it."