We expect the Canadian labor market to have shown a strong comeback after the last pandemic wave. We expect the February jobs report to retrace three-quarters of the 200,000 jobs lost in January. High-touch hospitality sectors again took a hit from Omicron, as did regions (Ontario and Quebec) which imposed more aggressive restrictions. But the spread of the virus and containment measures have now eased. Early data on restaurant reservations and our own tracking of card transactions point to a rapid rebound in spending in February, and job postings rebounded strongly. Hours worked are also expected to rise after falling 2.2% in January due to high worker absenteeism. With the economic impact of the virus fading, labor shortages will remain a more pressing issue for many businesses than lack of orders. Indeed, the strong demand for workers and the decrease in the number of unemployed means that wages are likely to increase.
Record household net wealth, driven by rising house prices and stock market gains, is expected in the fourth quarter Canadian household balance sheet on Friday. The closely watched debt-to-income ratio has likely climbed well above pre-pandemic levels, fueled by higher debt levels and a return to more normal disposable incomes as government support for the pandemic was waning. Most of the pandemic debt growth is coming from mortgages funded at low interest rates. So even though the debt burden increased slightly in the fourth quarter, the payments associated with it likely remained at low levels. Admittedly, the financial markets were shaken in the first quarter by the Russian invasion of Ukraine. But households are underpinned by a large amount of savings accumulated during the pandemic. And strengthening labor markets should push disposable incomes even higher.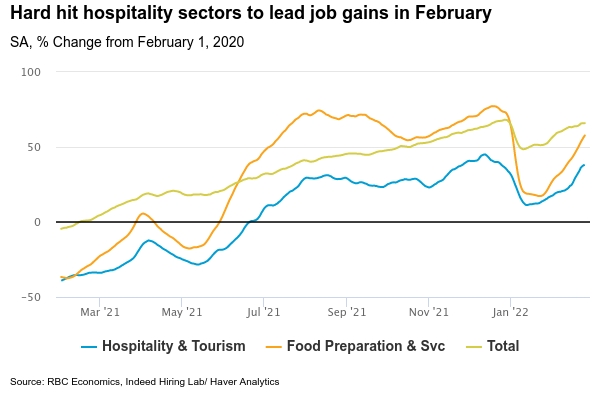 Monitoring data for the coming week:
Canadian merchandise trade will likely turn into a surplus ($0.5 billion) as higher oil prices (which rose 16%) boosted exports, but December's surge in communications equipment imports will not be repeated .
US inflation is expected to have climbed to 7.7% year-over-year as consumers paid more at the pumps (+40%). We also expect to see signs of widening price pressures.